You're Hired! University Apprenticeships add £5m to regional economy
21 Mar 2013
The University will create at least 50 Apprenticeship opportunities during the next 12 months to support its local communities, adding £5m to the regional economy.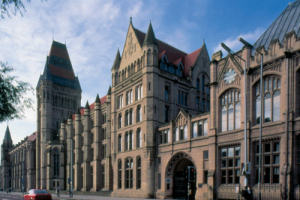 The apprentices will be recruited into a range of roles across the University and will be integral in ensuring the University continues to excel nationally and internationally.
President and Vice-Chancellor Professor Dame Nancy Rothwell said: "In recent years the University has developed a number of initiatives which have both increased the number of local people in our workforce and positioned us as an employer of choice with neighbouring communities. In common with all employers it is vital that the University invests in skills development to ensure that we maintain and develop a workforce which enables us to compete globally particularly, in our case, in research and the student experience.
"I am pleased that our mission to deliver these strategic objectives will also create opportunities for young people to acquire skills in a variety of occupational roles which will help them to realise their potential and contribute to our success."
Skills Minister Matthew Hancock MP said: "We want to make going to university or doing an apprenticeship the new norm for school leavers, so it's great news that The University of Manchester has decided to embark on an Apprenticeship programme of scale.
"It's proof that Apprenticeships deliver for every type of organisation, large or small. They boost productivity, support the economy, develop skills and help young people to progress further."
John Myers, Head of Apprenticeships in Greater Manchester for the National Apprenticeship Service, also welcomed the University initiative. He said: "The University is the most significant employer in the City and we are delighted they have chosen to show such civic leadership by supporting local communities through an Apprenticeship programme of scale. Apprentices add significantly to the local economy with the National Audit Office estimating that for every £1 of Government Investment there is £18 of added value back for the local economy."
The Apprenticeships at the University will include lab technicians, workshop roles and administrative posts.