Roundtable discussion on Music and Public Engagement
19 Mar 2013
On 22 March 2013 (5pm) in the Cosmo Rodewald Concert Hall, Martin Harris Centre.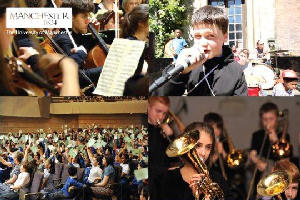 The Department of Music and the Institute for Cultural Practices invite you to an open event on the role and value of music in Manchester.
We will be hosting a discussion panel of music ensembles and education organisations in the city, including the Manchester Camerata and Halle Orchestras, Brighter Sound, One Education and the NOVARS Research Centre, who are all involved currently in music engagement initiatives and approaches. We hope you can join us – the event is free to attend and followed by a drinks reception.
Further information
Other concerts and events later this evening/this weekend