People's historian comes to Manchester
13 Mar 2013
One of the country's best loved historians is to become Professor of Public History at the University.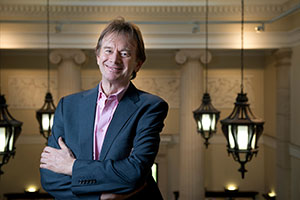 Michael Wood, who has been a regular face on our TV screens  for over three decades, will teach undergraduate and postgraduate students, lead historical field trips and give four public lectures a year.

Originally from Moss Side, Manchester, Michael has made well over a hundred documentary films and is known for his work with community historians across the UK.
He is also the author of numerous best-selling history books and will be based at the University for three years.
Over the next two years or so he will be writing and presenting a major BBC series exploring the history of China, a country with which the University has strong and growing ties.

Michael said: "I am thrilled to be involved in such an exciting project in History and the Humanities, in such a dynamic and forward-looking university, and especially in my home town Manchester, one of the world's great historic cities."
Fellow historian, Vice-President and Dean of the Faculty of Humanities, Professor Keith Brown said: "Michael Wood is the UK's leading public historian. He has had a huge popular impact, and we are delighted to announce his appointment.
"Because he is also widely respected as a serious scholar, we think our students will benefit greatly from his talents. But he'll also bring to us his expertise in making history accessible to the public - which is what his role is all about."