Staff Survey 2013
06 Mar 2013
The countdown is on – the Staff Survey 2013 opens on Monday 11 March.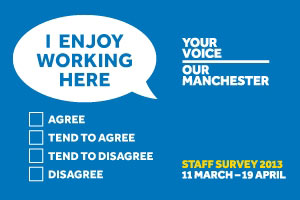 Around 9,600 University staff will be invited to take part* – whether online or by completing a paper copy. 
It only takes around 15 minutes to complete, and you can be sure that all the information you supply will be anonymous and treated in strictest confidence.
This is because the Staff Survey 2013 is being administered on the University's behalf by Capita – an external company with plenty of experience in running these kinds of surveys.
The survey results will be published in June, with action plans being agreed in September at a University-wide, Faculty and Professional Support Services/Library/visitor attraction level.
What do I do on Monday 11 March?
If you have email access at work, you'll receive an email from Capita at some point on Monday 11 March:
The email address the message will come from will be Surveys, Staff and the subject line will be University of Manchester Staff Survey
If you don't receive this email on Monday 11 March, look in your spam/junk email to see if it's there. If you've not received this email by Tuesday 12 March, contact Capita on 0800 587 3115.
Simply open the email and you'll find a weblink to the survey and your own unique password, which you'll need to access the questionnaire
Just click on the link, insert your password and fill in the questionnaire
Most of the questions require a tick box answer, however there are opportunities for you to give more full responses to some questions.
Incentives
Once you've completed the survey, you'll be asked if you want to take part in a prize draw to win one of six iPads.  If you do, enter your contact details. The winners will be chosen at random by Capita, so no-one at the University will be able to link your contact details with the information you've submitted on your questionnaire.
You'll also be asked which of the three charities you want your £1 donation to go to (which the University will give on your behalf). Staff chose the three charities via an online vote, and they are: The Christie, Cancer Research UK and Water Aid.
Then just submit it your completed survey and you're done. You won't be sent a receipt or acknowledgement from Capita.
If you don't complete the survey straight away, you will receive regular reminders from Capita, via email.
What if I don't have email access at work?
If you don't have email access at work, your manager will let you have a paper copy which you can complete and return to Capita in the pre-paid envelope.  
The survey runs until Friday 19 April, so there's plenty of time to get involved.
Need help?
If you need help to complete the survey between 11 March – 19 April, contact Capita on the Freephone number 0800 587 3115.
For further information about the Staff Survey 2013 visit:
* Staff who joined the University on, or after, 1 January 2013 are not included in the Staff Survey 2013.