Imran Hakim Masterclass: innovation and business success
04 Mar 2013
On Friday, 8 March (2pm – 3pm) in University Place Lecture Theatre A.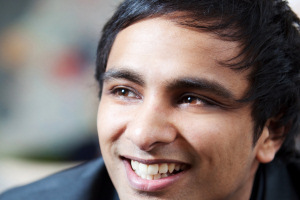 Join Imran Hakim, creator of the iTeddy, learn about his entrepreneurial journey, share his innovation and business success secrets and engage in a Q and A session.
No booking needed, seats allocated on a first come first served basis
Brought to you in support of the Library's Eureka! Innovation Challenge
About Imran Hakim
A Manchester graduate and successful businessman, Imran is an optometrist by profession and has won numerous awards over the years in recognition of his endeavours including; NorthWest Young Entrepreneur of the Year 2006 and Fusion Entrepreneur of the Year 2007.
In 2007 he appeared on Dragons' Den where he successfully secured investment for the development of the iTeddy.  The iTeddy became a great success and earned Imran awards such as Toy Inventor of the Year 2007, IOD's NorthWest Young Director of the Year 2007, World Toy Innovation 2008 and Startup Business of the Year 2008. He was awarded an Honorary Doctorate in Enterprise and Innovation from the University of Bolton in 2009 and also appeared in Growing Business's list of the top 40 entrepreneurs in the country under 35.
Imran joined UMIP (The University of Manchester Intellectual Property Limited) as Director of Entrepreneurship in 2009.  His role at UMIP is to enhance the University's spin-out company and licensing activities and to encourage intellectual property entrepreneurship at the University.
UMIP is the managing agent of The University of Manchester for intellectual property commercialisation. UMIP's role is to enhance the reputation of the University's intellectual property development through successful spin-out and licensing business activities.