University appoints full-time Director of Social Responsibility
01 Mar 2013
Julian Skyrme has been appointed as the University's first full-time Director of Social Responsibility.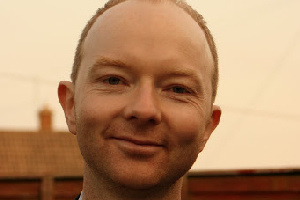 Prior to this, Julian led on widening participation and undergraduate recruitment activity for a number of years, where he helped take Manchester to the top end of the Russell Group for our intake of students from under-represented backgrounds.
Social Responsibility is one of the three core goals in our Manchester 2020 Strategic Plan. Julian will be responsible for leading and coordinating the University's strategy across five new priority areas:
research impact
socially-responsible graduates
public and community engagement
fair employment practices
environmental sustainability
The role of Director was created following a review of Social Responsibility undertaken at the end of 2012.
Julian said: "I am delighted to be appointed as our first full-time Director of Social Responsibility. World-leading universities of our scale have exciting opportunities to create significant social impact through our teaching, research, operations and engagement activities."
"I am looking forward to engaging staff, students, alumni and external stakeholders in honing in more on where Manchester is uniquely positioned to address profound social, economic and environmental challenges." 
A major re-launch of the Social Responsibility strategy is planned later in the year and Julian is looking forward to ensuring staff have opportunities to contribute actively.
He added: "Our research, teaching and PSS staff are already driven by a desire to make a positive difference to the world. This is a tremendous asset that can be harnessed further, by engaging staff in opportunities to contribute to change-programmes addressing major challenges like educational inequality, sustainability, poverty, healthcare and development."
A series of open meetings engaging staff in the development of our Social Responsibility strategy are being led by Julian throughout March for staff who would like to find out more.