Life Sciences graduate to compete in rowing World Cup
01 Mar 2013
Manchester graduate Graeme Thomas has been selected for the 2013 World Rowing Cup in Sydney, home of the 2000 Olympic Games.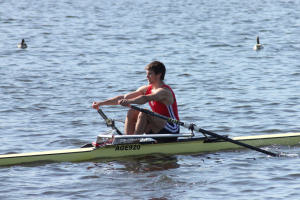 Graeme, a single scull European finalist last year, will compete in the men's quadruple scull event from March 22-24.

Since earning his Bio-Medical Science degree last summer, Graeme has moved to Henley-on-Thames to be closer to the GB training centre and the Redgrave-Pinsent rowing lake in Caversham, near Reading.  

The 24-year-old raced in the men's single scull at the World Cup in Munich last year and finished in a highly creditable 4th place.
He said: "Obviously I am incredibly pleased to be selected for such a fantastic opportunity to race on the other side of the world and visit a place I have never been before, but more importantly I really see this as great chance to continue to develop my international experience in crew boats. 

"We will be flying out to Australia two weeks before the racing starts to have a short training camp to allow us to acclimatize to the time zone change and the warmer climate."

Graeme didn't take up rowing until the age of 20 whilst at the University.

He originally had ambitions of being a professional rugby player but decided that his leaner physique would be more suited to rowing. He tested for the GB Rowing Team's Start Programme, and successfully met the criteria.
He said: "The winter training has been full time and despite a back injury I have recovered very well and improved my fitness.  The peak of the winter training was a very intensive altitude training camp in the Sierra Nevada mountains in southern Spain, attended by the heavyweight men's team.

"Having raced at last year's World Cup in Munich in the single scull, I am familiar with the format and its fast pace and I hope that racing in the southern hemisphere will bring a new dimension to the event. I also know the Aussies who love their sport will be keen to support the event and it should be a pretty lively atmosphere."