Social Responsibility and Volunteer of the Year Awards 2013
07 Mar 2013
Nominate members of staff, students or alumni by Friday, 8 March - each winner will receive a cash prize for their community organisation.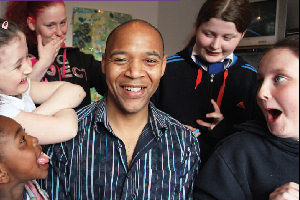 Nearly every evening, Lenox Green, Postgraduate Office Administrator in the School of Mathematics, goes to the Rainbow Christian Centre in Hulme. He had set up the centre with his wife, Heather, in 2003, and since then it has offered a space and activities to over 600 young people, providing them with a good alternative to gangs or crime.
In 2012 The University recognised Lenox's amazing commitment by naming him the staff 'Social Responsibility and Volunteer of the Year'. Before then, few of his colleagues had known about his activities and achievements outside of work.
The Social Responsibility and Volunteer of the Year Awards help the University to recognise and celebrate the significant time and energy given by its members in engaging with local communities – locally, nationally and internationally - through volunteering and involvement in public engagement programmes. 
The awards are given in three categories:
Staff Member of the Year
Student of the Year (open to both undergraduates and postgraduates)
Alumni of the Year
To be eligible for these awards, the activity must show at least one of the following:
Actions that have created real impact and change;
A significant and sustained commitment to community activity, over and above what would normally be expected;
The demonstration of exceptional leadership skills;
The use of innovation to meet a need.
Successful nominations will demonstrate activity over and above what is expected as part of a nominees' job.
The awards will be presented by the President and Vice-Chancellor, Professor Dame Nancy Rothwell. Each winner will receive a cash prize for their community organisation and overall winners will be put forward as recipients for the University Social Responsibility Medal.
Nominations are now open and the closing date is Friday, 8 March 2013.
We hope that as many staff as possible will support this initiative by nominating themselves or others and encouraging students and alumni to take part.
You can find more detailed information and the nomination form at: