Leading cardiologist to head new Institute of Cardiovascular Sciences
29 Nov 2012
The University of Manchester has appointed a top cardiology professor to head up its new Institute of Cardiovascular Sciences in the Faculty of Medical and Human Sciences and to lead an initiative to further develop cardiac research in Manchester.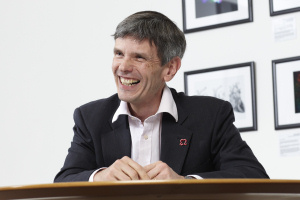 The initiative will link with partners in the Manchester Academic Health Science Centre (MAHSC) to build on the integrated clinical and academic facilities of the University's Oxford Road campus and Central Manchester NHS Foundation Trust, which have already seen more than £1billion of investment over the past five years.
Professor Keavney qualified in Medicine from Oxford University in 1988 and became an MRC Fellow in the Nuffield Department of Medicine in Oxford in 1993 where he trained in genetic epidemiology. He completed training in clinical cardiology and undertook postdoctoral scientific training in Oxford before moving to Newcastle University as Senior Lecturer in 2001.
In 2006, Professor Keavney was appointed Professor of Cardiology and two years later was awarded a British Heart Foundation Personal Chair in Cardiology at Newcastle. His research focus is the genetic epidemiology of complex cardiovascular disease, where he has contributed both to the identification of robust associations between various genetic polymorphisms and disease, and to the development of now widely adopted methodologies (notably "Mendelian randomization").
Since 2007 he has served on the UK Biobank International Scientific Advisory Board (as one of two UK members) and has undertaken international advisory roles focused on genetic epidemiology for the Dutch Heart Foundation, the French INSERM, the Royal Dutch Academy of Medical Sciences, the Spanish Ministry of Science and Innovation, and the European Union. In addition to his academic work, Keavney maintains an active practice in Interventional Cardiology within the UK National Health Service, which grounds his work in clinical problems and offers an excellent opportunity to attract talented clinical cardiovascular trainees to science.
Professor Keavney, who will take up his position as Institute Director and Consultant Cardiologist at Central Manchester NHS Foundation Trust in April, said: "I am tremendously excited to be taking on this role. Manchester has an outstanding group of cardiovascular researchers, who are at the forefront of their respective fields, and it will be my privilege to join them.
"I entirely share the vision of building a truly world-class research Institute from the current position of strength in Manchester. I have been particularly impressed by the close and productive links that already exist between the cardiovascular researchers in the University and across the NHS partners in MAHSC, and I look forward to developing them further. I believe that this spirit of close cooperation between outstanding basic and clinical scientists puts us in an excellent position to design treatments that benefit patients, based on our laboratory discoveries. To be based at the heart of one of the country's leading academic campuses is a huge advantage."
Dean and Vice-President of the University's Faculty of Medical and Human Sciences and Director of MAHSC, Professor Ian Jacobs, said: "I am delighted that Professor Keavney has accepted the post of Professor at The University of Manchester and as the inaugural Director of our new Institute of Cardiovascular Sciences. He is an outstanding clinician and scientist and his arrival further develops our links with the British Heart Foundation.
"This is a key step in our plans to continue building a world-leading centre of excellence for research in cardiovascular sciences and to work with our NHS partners through MAHSC to deliver outstanding clinical care for our region, which currently suffers from a high incidence and mortality from heart disease and stroke. Our initiative and partnership in cardiovascular research means that we will be well positioned to compete for a prestigious NIHR Biomedical Research Unit in due course."
Mike Deegan, Chief Executive of Central Manchester NHS Foundation Trust, said: "Professor Keavney's appointment offers Manchester a great opportunity to move our already high profile in research into the causes and treatments of cardiovascular disease to the next level. Patients across Greater Manchester will benefit greatly from this new co-ordinated approach to cardiovascular research by our partnership. We are very excited by this appointment at the Trust and look forward to working with Professor Keavney in building a real cardiovascular centre of excellence."
Ends