Cyclists: are you bright enough?
28 Nov 2012
Be seen, be safe - plus details of last monthly cycle ride of the year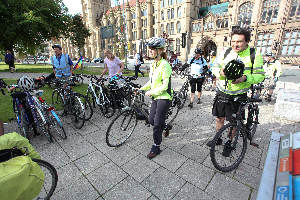 As winter draws in, making sure that as a cyclist, you can see where you are going and that you can be seen, is critical to having a safe and legal commute. These days lights are cheap, easy to obtain and low drain, meaning batteries last for ages.
And don't forget reflective kit, because most drivers say this is what they see first. You must have a rear reflector on the back of your bike and on your pedals, and ideally you should have a front one. Spoke reflectors mean people can see you side on.
For information on how to choose bike lights, see:
For more information and advice, see:
December Cycle to Work
The last Corridor monthly cycle ride of 2012 takes place on Wednesday 5 December. Join a guided route, specifically set up for new riders, or come along under your own steam for a free breakfast, raffle and chance to feel part of a great cycling community. Breakfast will be from 8.20am until 9am in Eats Refectory, University Place.
For all the details, including information on each guided routes information, see:
For information on University cycling facilities and schemes go to:
(*Please note a £3 voucher is provided for breakfast. If you go above £3 you will have to pay the additional cost)