Tabley House Carol Concert sold out!
28 Nov 2012
The traditional Carol Concert, organised by the Friends of Tabley, may be sold out, but there's an enjoyable programme of events to look forward to in 2013.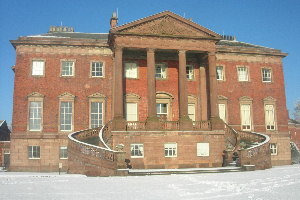 This most popular of local Christmas events will take place at 7.30pm on Thursday 13 December in the delightful old chapel at Tabley House. As usual, it will include carols and seasonal readings, some sacred and some humorously secular. The stars of the concert will nevertheless be the hugely popular Border Singers, who will provide a variety of choral pieces. 
Another tradition that seems to ensure the popularity of Tabley's Carol Concert is the provision of mince-pies and Blandy's Madeira wine at the end of the evening! 
The setting for the concert is very appropriate, as the redecoration of the chapel was the Friends' last project and the audience will now be able to see the results. 
Programme of events for 2013
The Friends are finalising their programme of events for the first half of next year and will announce these in the New Year.
Tabley House
Owned by The University of Manchester, Tabley House was built for the Leicester family by John Carr in 1767 and is one of the finest 18th century houses in Cheshire. It is Grade I listed and houses a famous collection of furniture by Chippendale, Gillow and Bullock and paintings by JMW Turner, Lawrence, Dobson, Devis and others.
The House is open from April to October in the afternoons from Thursday to Sunday and on Bank Holidays. Entry costs £4.00 (children/students £1.50). Tabley House is 1½ miles from Knutsford on the Northwich Road. 
To contact Tabley House:
Friends of Tabley
Tabley House receives no support from the Government, the National Trust or any other national body. The Friends of Tabley raise funds for the restoration and refurbishment of the rooms and contents of this irreplaceable country house.
For example, they have funded:
The redecoration of the grand entrance Hall;
The restoration of the original 18thcentury Hall Lantern hanging there;
The re-gilding of all the gilt strips and picture hangings (the "Lion Heads") in the stunningly beautiful Gallery;
The complete redecoration of the main Dining Room in its original style - costing £30,000!
Their latest project is the redecoration of the interior of the House Chapel.
Membership of the Friends costs £15.00 a year (£25.00 double membership, £4.00 students).
For more information on The Friends, please contact:
Carole Cooper on 01565 654301