Learning Through Football
28 Nov 2012
Manchester City proudly showed off their Premier League trophy and Community Shield during a visit to the University to launch a joint programme encouraging youngsters to study.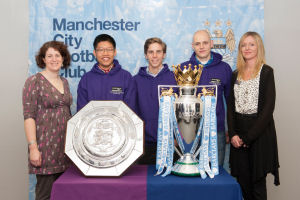 The club has teamed up with our student volunteers in order to go out to schools around Greater Manchester to deliver their 'Learning Through Football' programme.
Learning Through Football is an educational project aimed at Year 5 & 6 pupils, using the football club as a resource to engage young people in National Curriculum subjects.

In addition to the educational aspects of the programme, young people also take part in a football session with one of City in the Community's FA qualified coaches. 
Throughout this academic year, City aim to deliver the programme to 40 local primary schools, including key schools identified by The University of Manchester.

With the help of the University's student volunteers, up to a thousand young people will benefit from the project between now and July 2013.
Paul McCoy from City in the Community said: "This is an exciting development for us to be linked with such an established and successful University.  The project will provide students with the opportunity to gain experience of working with young people.  The next step will be to open up other opportunities for students to volunteer on City in the Community's wide range of programmes."

During their visit to the campus, under tight security, the University invited dozens of students from local schools to come and look at the trophies. The pupils came from:
Burnage Media Arts College, Manchester
Chorlton High School, Manchester
Rose Bridge High School, Wigan
Cansfield High School, Wigan
Denton Community College, Tameside
The trophies were also on show to a group of student Sport volunteers, who support local community projects through football, and the UniValet team who recently helped to launch a car cleaning service on campus in a unique social enterprise to help disadvantaged people to find work.

The City in the Community staff were welcomed onto the campus by Stephanie Lee, UG Recruitment and Widening Participation Manager, Professor Kevin Ward, Professor of Human Geography and School of Environment and Development's Director of External Relations, and Professor James Thompson, Associate Dean (External Relations) Faculty of Humanities.
Our picture shows (left to right) Lindsay Gilbert, Head of Volunteering & Community Engagment, student volunteers Tian Li, Eric Stousland, Moritz Raabe, and Alison Gregory, UG Recruitment and WP Officer.