Campus cake sales raise lots of dough for Children in Need
20 Nov 2012
Enterprising fundraisers produced a grand total of nearly £1500 on 16 November.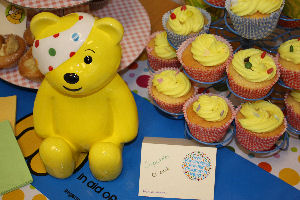 Research and Business Engagement Support in the Christie Building sold home-made and shop-bought cakes, cookies and baked goods and raffled a Pudsey scarf to raise £222.10.
School of Arts, Language and Cultures in Samuel Alexander Building raised £263.57 from their sale of sweet and savoury treats.
Pudsey's Patisserie set up shop in the Office of the Director of Estates and Facilities for the third year running and raised a total of £471.50 from cakes, treats, raffles and prizes.
The lucky prizewinners were:
Steve Valentine, Design Services Unit - Pudsey and Blush keyrings
Catherine Briggs, Income Office – Lego Pudsey
Damian Oatway, Professional Services Unit – Pudsey money box
English Language staff in Oddfellows Hall, University Language Centre, raised £59 from homemade brownies and sweet and savoury cakes.
FoodOnCampus donated 10% of all their hot drink sales on 16 November and all the proceeds from the sale of 161 Children in Need cookies, raising a total of £479.65.