Save money if you travel to work by train, tram or bus
14 Nov 2012
Apply for your interest-free loan and buy a season ticket for 2013 at 2012 prices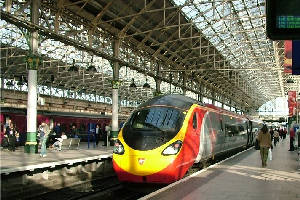 If you regularly use the train, tram or bus to get to work, then you could save hundreds of pounds by buying your annual season ticket now.
Buying a season ticket saves you money in the long run if you work full-time.  For example, a train season ticket from Wilmslow costs £1,702 normally, but if you buy a season ticket you'll be saving £414. 
A season ticket also saves you the hassle of having to buy daily or weekly tickets, and you can use it at weekends too.
Interest-Free Loan System
As part of our Sustainable Travel Plan, we're offering you an interest-free loan to buy your annual ticket.  The University buys your ticket on your behalf, and you pay the loan back, interest-free, from your salary over ten months.
This scheme is available for all forms of public transport including train, bus, tram and combination passes, with some operators offering additional corporate discounts.  To find out more and apply visit:  
Buy for 2013, but pay 2012 prices
And if you get your application in before 7 December, you'll save even more by buying your season ticket at 2012 prices - train fares are set to rise on average by 4.2% on 2 January 2013. 
Please note: Train, tram and combination (County Card) tickets are set to rise on 2 January 2013, so the latest date a ticket can start is 1 January 2013. 
All types of annual train tickets can be bought through the scheme, including virgin only and the GM Railcard (£835) which is often better value than a station to station season ticket for those living within Greater Manchester.