Find out more about cycling to work
21 Nov 2012
Join the University Bicycle Users' Group (UMBUG) annual meeting on 27 November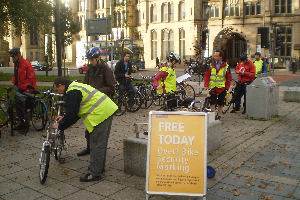 UMBUG now has over 800 members and actively supports and encourages cycling - especially as a way to get to work.
Whether you currently cycle to work, or are thinking about starting, come along and find out more about the ways UMBUG can support you.  You can also give us your ideas and views for future activity.
The meeting takes place in room 5.206, University Place from 12.30pm- 1.45pm, but you don't need to stay for the whole event - please feel free to pop in just for part of it.
If you'd like to promote this event to your colleagues, you can download our poster from: