Prestigious Appointment for Manchester Professor
14 Nov 2012
Professor Martin Humphries, from The University of Manchester, has been elected as the Vice President of the prestigious Academy of Medical Sciences. This influential body has over 1000 elected Fellows and works to promote advances in medical science.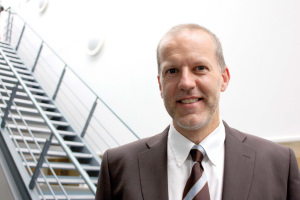 Professor Humphries is the Vice President and Dean of the Faculty of Life Sciences. Talking about his appointment he said: "I am delighted to be taking up this prestigious role with one of the most important scientific bodies in the UK. I hope to develop strategies to facilitate the careers of biomedical scientists, foster more effective collaborations between academia, industry and the NHS, and advocate new approaches to improve the translation of research."
Founded in 1998, the Academy of Medical Sciences is the independent body in the UK representing the diversity of medical science. Its members come from a variety of backgrounds, including hospitals, academia, industry and the public sector. They cover a wide range of disciplines from biological sciences to health technology implementation, veterinary science, dentistry, medical and nursing care and other professions allied to medical science.  
It is one of five National Academies and deals with public policy issues in healthcare. It also plays an integral part in the UK's strong biomedical research community; working closely with funders, medical research charities, the NHS and the private sector.
Welcoming Professor Humphries appointment the Academy's President, Professor John Tooke, said: "I am delighted that Professor Humphries has been elected as the next Vice President of the Academy of Medical Sciences. The role of Vice President is extremely important, and Martin will be very well placed to engage early career researchers with the work of the Academy and reflect the views of the life science community. I look forward to working with him over the coming years."
Professor Humphries will take up the role from 22 November 2012.