Bike marking events on campus this week
12 Nov 2012
The University offers a free overt bike marking service for all students and staff.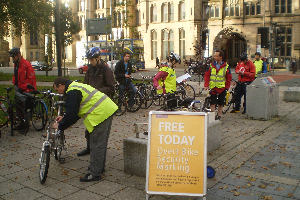 Many lost or stolen bikes recovered by the police cannot be returned to their rightful owners because they're not on a database that the police can access. As a result, many cycles that come into their possession end up going to auction.
University staff and students can greatly increase their chances of recovering their bikes by signing up to the University's free bike marking scheme, which offers the following:
'Etching' of a unique serial number onto the frame in a highly visible location;
Recording of owner/cycle details on a University database to enable our security officers to check them;
Entry of the above on the national property database 'Immobilise'', which is checked by the police when they recover lost or stolen property.
This week's bike marking events
12 November 2012 (10.30am-12pm) in Williamson Building [cancelled]
15 November 2012 (10.30am-12pm) in The University of Manchester Library
16 November 2012 (9.30am-11am) in Humanities Bridgeford Street
Please note that events may be cancelled if the weather is poor. Before attending an event, you are advised to check wheher it is going ahead at: