Ancient Worlds After Hours at The Manchester Museum
08 Nov 2012
On Thursday 15 November (6.30-9pm).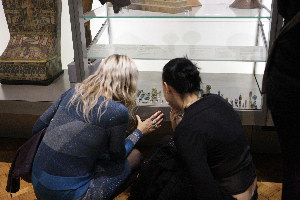 With a contemporary twist on the ancient world, explore the new Ancient Worlds galleries at night and meet the people who created them. Mummify an orange, go on mini tours with Bryan Sitch, Curator of Archaeology and Campbell Price, Curator of Egypt and Sudan and take part in a conservation masterclass.
You can also take part in Clay OK's Ancient Fragments workshop – where you can sketch a fragment of your favourite textures and shapes from the displays and be guided in translating the pattern into a plastic relief stamp, which you can impress into a large clay tablet - contributing to a contemporary artefact of the event! With music by Glenn Sharp (Oud - representing Egypt) and Kostas Papvasileiou (Bouzouki - representing Greece).
After Hours are evening social events where you encounter the unexpected. Artists, scientists, filmmakers, writers and musicians animate our collections in special one-off performances. After Hours are supported by Barefoot Wine.
Drop-in, free, adults
To find out more about the Museum: