Campus car wash launches
30 Oct 2012
UniValet will begin operating in the University's car parks on 5 November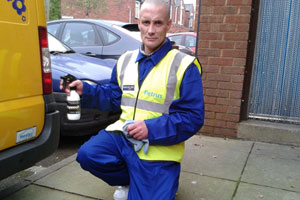 Do you hate going back to a grimy car after a day at work, but don't have time for trips to the car wash? Here's a solution: have your car cleaned by the UniValet service while you're working.
But UniValet is about much more than going home in a clean car: it is a unique social enterprise which has been launched jointly by the University and Rochdale-based charity Petrus Community to help disadvantaged people into work.
The new service costs from £10 per car and will be carried out by a team of operatives (led by Darren Vickers, pictured) using Onedrywash, an environmentally-friendly waterless washing and polishing system. You'll be able to choose a morning or afternoon cleaning slot and pay by debit card, credit card or PayPal.
By using UniValet, you will help to provide paid on-the-job training for local people who have been without a job for some time or who may have never worked.
Whilst working for UniValet, a not-for-profit company, they will also attend The Works, a training and advice centre set up by the University with sites in Moss Side and Ardwick, to help them find long-term employment.
Assistant HR Director Steve Grant said: "UniValet is the first in a number of programmes that the University is developing in support of the Greater Manchester Commitment to Youth Employment. For many of the people who join this training programme it will be a step on to the first rung of the jobs ladder.
"This is not simply training people to clean cars; we are training them to go to work. We're giving unemployed people in Greater Manchester the opportunity to learn about customer services, team work and punctuality and all of the other skills and attributes employers expect. Job-seekers without this kind of basic experience face real barriers getting into work."
The service is being launched on Thursday, 1 November, when the five-strong UniValet team clean the President's car in the Old Quad behind the Whitworth Building. UniValet will begin operating across campus from Monday 5 November.
Support UniValet by booking your car in for cleaning at:
Further information
Please note that the University Car Park Services do not manage UniValet.
If you would like more information about the service, please contact: