Bright minds come together to put Manchester on the map
31 Oct 2012
A group of researchers meets on Monday (Nov 5) to explore creative ways to turn Manchester into one of the top cities in the world.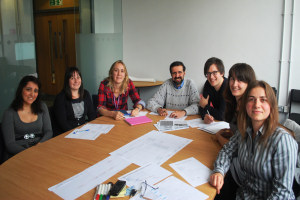 The Research Staff Association and research newsletter Incite at The University of Manchester have been awarded funding to stage the event which will look for creative ways to raise the profile of the city across the globe, in line with the University of Manchester's ambitions as a world class university.

Research Staff Association member, Michaela Goodwin said: "This is a unique opportunity to pull together researchers from right across the University, from a wide variety of disciplines, who will examine some of the big issues facing Manchester today."

"Early career researchers from all four of our Faculties will pool their expertise to come up with practical suggestions to take the city forward."

The one-day event will be attended by Jessica Bowles, Head of City Policy at Manchester City Council, who will give an overview of the challenges facing the city.

Michaela Goodwin said: "We will have more than 40 of the University's best young minds examining a wide range of issues such as transport and education."

The event is the first ever 'Manchester Mini Sandpit' – a compressed version of the multidisciplinary workshops used by some of the country's major funding bodies to drive radical approaches to research challenges.

As well as helping the City of Manchester, the researchers will be able to develop their own skills to improve grant writing, creative thinking and communication skills.
Organising team: Research Staff Association (RSA) and Incite newsletter
http://www.rsa.manchester.ac.uk/