Lost Beethoven hymn available online
29 Oct 2012
The lost hymn composed by Beethoven 192 years ago and discovered by a University of Manchester academic is now available on the University's You Tube channel.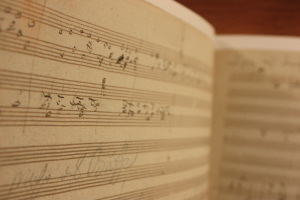 Following last week's  25 October performance, the audio  can now be downloaded at http://www.youtube.com/watch?v=ZkPCnodQQiY.

Professor Barry Cooper – one of the world's leading experts on the composer –found the work which Beethoven composed in about 1820, written alongside some original sketches of the famous Mass in D, known as the Missa Solemnis, in a sketchbook now in Berlin.

According to Professor Cooper, Beethoven's organ harmonisation of the thousand-year-old Gregorian hymn chant, called 'Pange lingua', adds to our understanding of the composer's devotion to Christianity.

The tune resembles a version of 'Pange lingua' that is still sung in churches today, and to complete the piece, Professor Cooper added the words of the vocal part – sung by a group of singers to Beethoven's harmony played by the organ.
The musicians, Directed by Professor Cooper, included soloist Constant Goddard, organist Matthew Pilcher and singers Lucinda Scott, Louise Greenfield, Catherine Fahy, Dean Parker and Ralph Warman.

Professor Cooper said: "This piece is surprising because it doesn't sound like Beethoven. If I hadn't seen it in his own handwriting, complete with corrections, I wouldn't have believed it was by him.

"I suppose it's likely that no one had noticed this before, because as the first line is sung without accompaniment, it isn't written down, which makes the tune much less easily recognised."