Council chief to be next chair of Manchester health partnership
29 Oct 2012
Manchester City Council's Chief Executive Sir Howard Bernstein will be the next Chair of the Manchester Academic Health Science Centre (MAHSC).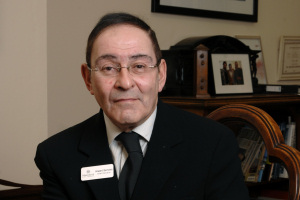 MAHSC – a partnership between The University of Manchester and six NHS organisations – conducts leading-edge research dedicated to developing new treatments for the benefit of NHS patients and includes some of the most highly rated NHS trusts in the country.
"MAHSC's partners have already made Manchester a beacon for health science across England and have the ambition and the potential to become leaders in the field internationally," said Sir Howard. "For Manchester's residents that means faster access to new treatments and world-leading healthcare discoveries.
"I'm attracted by the fact that MAHSC has a firm community base and mission within the North West of England, and at the same time has the drive and energy to help Manchester compete globally for investment and jobs. Manchester is already one of the most attractive locations in Europe for companies to develop new health products and services, and is on its way to becoming one of the best in the world."
MAHSC is one of just five Academic Health Science Centres in the country, and the only one in the North of England. The scale of Manchester's health science sector is of national economic significance:
Manchester's biomedical health sector contributes more than £1.6billion to the UK economy
The number of people employed in Manchester's medical technology and healthcare sectors has grown by 17% in the last two years.
MAHSC's Director, Professor Ian Jacobs, who is also the Vice-President and Dean of the Faculty of Medical and Human Sciences at The University of Manchester, said: "The appointment of Sir Howard as Chair is an important and exciting step for MAHSC. It reflects the commitment of MAHSC to link excellence in research, education and clinical care to improve the health of our population in Manchester, as well as our ambition to make a global impact through discovery and innovation.
"The development of MAHSC as an effective partnership during the last four years owes a great deal to the stewardship of Sir David Henshaw as our inaugural Chair; as a result MAHSC is very well placed to make a regional, national and international impact with Sir Howard as our new Chair."
Sir Richard Leese, leader of Manchester City Council, said: "The biomedical sector is incredibly important to Manchester's economy and our standing in both the UK and the world. In the coming years we hope the sector will grow even more, which makes a partnership like MAHSC vital to give Manchester the competitive edge.

"Howard's strong and dynamic leadership, combined with his vision, drive and proven track record of delivery will help ensure MAHSC realises its ambitions, which everyone in the city shares."
Sir David has chaired MAHSC since its inception in 2008 and completes his term as chair in January 2013.
Ends