Free lunchtime concert and seminar by Quatuor Danel
26 Oct 2012
On Thursday 8 November 2012 (1.10pm) at The Cosmo Rodewald Concert Hall, The Martin Harris Centre for Music and Drama.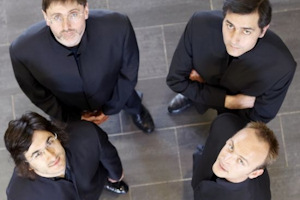 No need to book - just turn up.
Like Debussy and Ravel, Fauré and Delius composed just one string quartet apiece: the Frenchman's is an elusive successor to those works; the Englishman's characteristically ecstatic and best known for its slow movement 'Late Swallow'.
Fauré - Quartet in E minor Op. 121
Delius - Quartet (1916)
More information
After the concert, at 2pm, the Quatuor Danel give us an inside look at the issue of intonation in string chamber music.
More information