New home for School
01 Nov 2012
The School of Chemical Engineering and Analytical Science (CEAS) has opened the doors to its new home, the James Chadwick Building.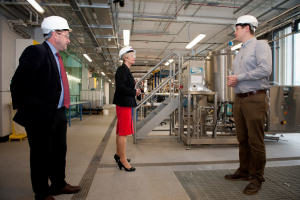 The five-storey building, on the corner of Booth Street East and Upper Brook Street, is part of a £30 million project to further expand the School, boasting outstanding research facilities and teaching laboratories.
Named after Sir James Chadwick, the Manchester alumnus and English Nobel laureate in physics, awarded for his discovery of the neutron, it also houses a sophisticated industrial pilot plant.
Head of School Professor Mike Sutcliffe said: "I would like to say thanks to our fantastic team, within the School and in the Directorate of Estates and Facilities, who have been working very hard to make this happen.
"This ambitious and modern building gives chemical engineering staff and students the environment they deserve.  As one of a small group of elite Chemical Engineering departments within the UK, it is vital we have the facilities to match.
"Our broad research base in which engineers and scientists work seamlessly together enables us to study the design, operation and integration of different complex systems – particularly industrial, biological, and instrumentation – and apply chemical engineering in a 21st century context.
"The new building will significantly enhance the student experience – allowing us to further develop cutting edge teaching methods underpinned by state-of-the-art laboratory equipment coupled with a modern, enabling learning environment."