The beast within captured by artist
24 Oct 2012
A contemporary artist, who has exhibited at galleries around the world, has been inspired by scientists at The University of Manchester to create works of art depicting the parasites that live inside humans and animals.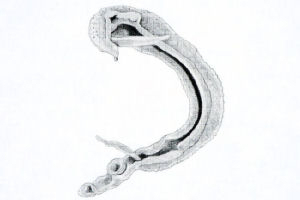 Sheffield-based artist Paul Evans has been working with staff from the Faculty of Life Sciences to create a series of drawings of microscopic parasites on a human scale. The striking results form the exhibition "The Beast Within" which opens at The Manchester Museum from Saturday 27 October as part of the Manchester Science Festival.
In 2011 Paul visited the university to look at parasites, such as gut dwelling whipworms and Giardia as well as parasites that live in the blood. He spoke to Professor Kathryn Else and Dr Sheena Cruickshank about the wide range of parasites which affect over half of the world's population.
Paul says it was a memorable experience: "Though some people might find references to science fiction and horror films in these drawings, the actual experience of coming to terms with these organisms is more challenging. When I visited the university I was shown a video of a whipworm infestation in a young girl's intestines. This image will live with me forever, fortunately only as an image in my mind, not a hideous writhing mass in my intestines."
Using microscopic images of the parasites Paul created several large graphite drawings measuring 1.5 metres by 0.5 metres. By drawing these tiny parasites on a scale that is clearly visible to humans, Paul says he hopes to emphasise the contrast between the strange beauty of these organisms and the horrific nature of their impact.
Paul says that he feels this beauty is particularly apparent when the parasites are seen from a safe distance through a microscope, or through the medium of drawing: "Drawing is a very intimate, very tactile, medium that can bring you closer to your subject; but when you make a drawing you are always, quite literally, at arms length from the object that you are representing. The relationship between proximity and distance - between beauty and scientific truthfulness - that we see in biological illustrations has always fascinated me. Our aim in this project has been to reveal something of the elegance of the natural forms of these parasites, without avoiding the uncomfortable truth about their nature."   
Dr Cruickshank has been researching the role of parasites in human health, including how they can benefit their host. She welcomes Paul's use of these creatures for art: "The final images that Paul has produced are incredibly striking. They provide the public with an opportunity to see these creatures in a way that isn't possible without a microscope. I and my colleagues hope they will make people think about the impact of these parasites and their significance for human and animal health."
The Beast Within will run from October 27 to November 4 as part of the Manchester Science Festival. Dr Cruickshank and a team of researchers will be at the Museum on Saturday 27 hosting worm workshops with parasites on display and games to take part in.
The team will also be at the museum on Tuesday 30 October.
For more information on The Beast Within please visit Paul Evan's blog www.origin011.wordpress.com and website www.origin011.org
Further details about the science festival can be found at www.manchestersciencefestival.co.uk