Science buskers take to the streets for Science Spectacular
23 Oct 2012
Science buskers from The University of Manchester will be lining Oxford Road on Saturday with all sorts of sensational science tricks and treats to amuse adults and children of all ages.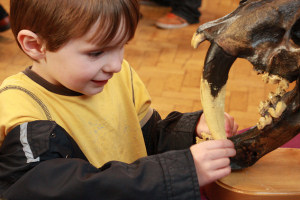 Some of the daring displays will include balancing a cork and two forks on their nose, creating ghostly fish, diving in a bottle, tricking taste buds and even making musical notes out of baking trays.
All 11 buskers are researchers at the university and have never done anything like this before. They underwent an intense day of training which featured a lot of laughter and home-made slime! They then spent a few hours in action at the Museum of Science and Industry to get a feel for interacting with the public.
But busking for strangers on Oxford Road will be a whole new challenge. Thomas Smith, who's normally a PhD Chemist, says: "I love science, I love engaging with the public, and I love teaching people new things. Doing science busking is an amazing combination of all of these things. Going to the training session gave me some new ideas about how to engage with people of all ages to demonstrate scientific knowledge using just simple equipment. Now with a lot of practice and some new ways of thinking about the tricks, our performance on Saturday is set to be a feast of learning and fun that people won't forget in a hurry."
The science buskers are part of the free Science Spectacular event in Whitworth Hall and The Manchester Museum. Over 40 interactive exhibits, staffed by up to 200 of our leading science staff, will offer hands on science activities including:
Graphene: Unexpected science in a pencil line - have a go at making the Nobel Prize winning material with some sticky tape and a pencil.
What's wrong with Teddy? – Don a white coat, glasses and gloves to test blood using techniques seen on CSI to determine what illness Teddy is suffering from.
The wonderful world of weather and climate – Try your hand at forecasting the weather with a mug, a balloon and a straw. Identify ice crystals under the microscope and find out which household item is the most polluting; talcum powder, a toaster or an air freshener?
Moon rocks and meteorites - Handle pieces of the moon collected by the Apollo astronauts and analyze four and a half billion year old meteorites to find out what they tell us about the universe.
Secrets of the skin –Test anti-ageing products to see if they actually work and find out how your skin is ageing! An activity which should interest our more mature visitors!
Professor Dame Nancy Rothwell, President & Vice-Chancellor, is supporting the event: "I am delighted that the University is playing a significant role in the Manchester Science Festival. The Science Spectacular offers us a fantastic opportunity to take our research out of the laboratory and engage everyone in the wonder of science. We hope to both inspire the next generation and start conversations that lead us to become better engaged researchers." 
Science Spectacular will run from 11am till 3pm. At 3pm there will be a chance to see exploding chemistry in action at the Flash Bang Show in the university's chemistry show.
Science Spectacular marks the start of the Manchester Science Festival which runs from Saturday 27 October to Sunday 4 November.
More information about Science Spectacular can be found at www.manchestersciencespectacular.co.uk/.
It's only the second time The University of Manchester has hosted Science Spectacular, which last year attracted 2,000 visitors.