Jodrell Bank scoops award for Best Outdoor Event
19 Oct 2012
The first Live From Jodrell Bank festival has beaten off competition from Sainsbury's and Jamie Oliver to win the Best Outdoor Event award at the Event Awards.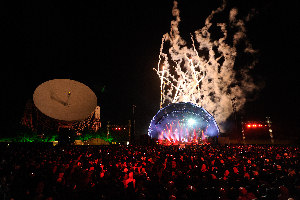 The award went to organisers Ear to the Ground for the inaugural event in 2011, which was headlined by The Flaming Lips. Ear To The Ground produced an innovative project that took visual projection and marrying music and science to a whole new level.
Live Director Jon Drape commented: "It was an amazing opportunity to push the bar in terms of bringing together cutting edge production in a completely new environment: a big thanks to the staff at Jodrell, all suppliers, artists and everyone else involved."
The Jodrell Bank Discovery Centre is piloting the Live from Jodrell Bank events as a way of attracting new and 'hard to reach' audiences into the Centre to engage with the research carried out at Jodrell Bank and across the University.
Attendees at the 2011 event were able to come into the Centre and interact with the exhibits and attend talks during the day – and Tim O'Brien, one of Jodrell Bank's Astrophysicists, also gave two talks about Astrophysics from the main stage between bands.
The gig ended with a spectacular projection onto the surface of the Lovell Telescope – a film that showed the science and history of Jodrell Bank to the attendees – of which there were over 5,000. The Science Fair and science engagement activities were entirely self-funding as a result of this.
Analysis of the attendee feedback showed that the event brought in a huge number of 'young adults' (which are typically a difficult group to attract to science engagement events and science centres) and that people came from as far afield as the Netherlands and Japan.
The success of the 2011 event led to a further event being organised in 2012, headlined by Mercury Prize winners Elbow (whose show sold out in an astounding 60 minutes). A DVD of their performance will be released in the future – the band's first ever live DVD.
Live at Jodrell Bank 2012 was attended by over 12,000 people and the Science Fair was expanded to include researchers from across the University, alongside a huge Olympic-themed exhibit from the Wellcome Trust and a tent showcasing the search for the Higgs Boson at the Large Hadron Collider.
This year's event has been shortlisted for 'Tourism Event of the Year' in the Cheshire Tourism Awards, so watch this space!
Details of Live From Jodrell Bank 2013 will be released in due course at:
You can view a promotional video of the series at: