Simply Red singer to receive Honorary Degree
18 Oct 2012
The University of Manchester will give Honorary Degrees to five outstanding individuals this Wednesday, 24 October.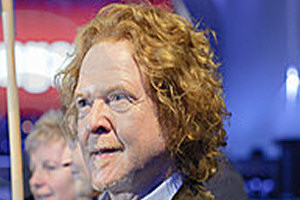 An honorary doctorate in Music will be conferred upon Mick Hucknall, former lead singer of Simply Red, at this afternoon's ceremony.
Degrees will also be conferred upon:
Sir Fazle Hasan Abed – Founder and Chairperson of BRAC, a development organisation dedicated to alleviating poverty
 
Sir Philip Craven – President of the International Paralympic Committee
 
Dame Kathleen Ollerenshaw – mathematician and politician, former employee of our University and Lord Mayor of Manchester (1975-76), now aged 100
 
John Timpson – businessman and  Chairman  of the Timpson retail business
Prior to the Honorary Degree ceremony, TV and radio personality Clive Anderson, a former barrister, will give this year's Foundation Lecture at The University of Manchester entitled 'Is it time to have TV cameras in court?'
Biographies
Sir Fazle Hasan Abed is the founder and chairman of BRAC, the Bangladesh Rural Advancement Committee.  He was appointed Knight Commander of the Order of St Michael and St George (KCMG) in the 2010 New Year Honours for services in tackling poverty and empowering the poor in Bangladesh and globally.
Sir Philip Craven has been President of the International Paralympic Committee since 2001. He obtained a BA in Geography from The University of Manchester in 1972. Sir Philip went on to represent Great Britain in wheelchair basketball at five Paralympics, from 1972 to 1988. He also competed in track and field athletics and swimming at the 1972 Games.
Mick Hucknall was the lead singer of Simply Red, selling more than 50 million albums over 25 years before the band performed their farewell show in 2010. In 2013 Hucknall embarks on a solo UK tour performing his American Soul collection. Born in Denton, Manchester, he is active in politics as a prominent supporter of the Labour Party and is a keen Manchester United fan.
Dame Kathleen Ollerenshaw is a centenarian, a renowned mathematician and politician. Dame Kathleen was born in Withington in 1912 and has been deaf since the age of eight. After WWII she worked as a maths lecturer at the University of Manchester. She served as the city's Lord Mayor in the mid-seventies and is an honorary member of the Manchester Astronomical Society. She turned 100 earlier this month.
John Timpson joined the family footwear business in 1970, rising to Managing Director in five years; he sold the shoe shops in 1987 to focus on repairs and key cutting, growing the family business to more than 800 branches nationwide with a turnover of £150m. With wife Alex they have five children of their own and have fostered more than 80. In 2004 he was awarded the CBE in the Birthday Honours List for Services to Retail.
This year's Foundation Lecture will be given by Clive Anderson, a former barrister, best known for being a comedy writer as well as a radio and TV presenter. He hosted ten series of the hit TV show Whose Line Is It Anyway? as well as his own chat show on Channel Four, Clive Anderson Talks Back. He has also appeared regularly on Have I Got News for You, Mock the Week and QI.