Coffee morning's bean a great success!
18 Oct 2012
The University's first coordinated Macmillan Coffee Morning on 28 September raised nearly £2,000 for a very worthy cause.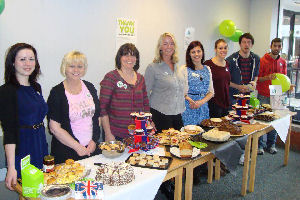 Staff and students who'd never met before worked together to organise events ranging from a homemade cake sale in University Place and a cake competition in the Alan Turing Building, to a dedicated Coffee Morning at Christie's Bistro. FoodOnCampus also donated money from their drinks sales on Friday morning.
Adam Woof, Manager of Christie's Bistro, who was one of the Coffee Morning organisers, said: "On behalf of all the organisers, I'd like to thank everyone who donated, baked cakes and helped out. We've raised a fantastic amount for a great cause."
You can see photos from the Coffee Morning at: 
Coffee bean competition winner
Liz McIlroy, University Wedding Coordinator, won a magnum of Prosecco after guessing that a glass biscotti jar in Christies Bistro held 9225 beans – hers was the closest guess, but still some way off the actual count of 8775.
Raffle winners
Prize

Ticket Colour

Ticket No

Name

Hi-Life Dining Card

Yellow

254

Graeme Riley

Champagne afternoon tea

Yellow

341

Ian Hart

Lunch for two at Christie's Bistro

White

1

Maria

Bouquet of flowers

Yellow

3

Lynn Howarth

Seven-day gym pass

Light green

59

Denis

Spa vouchers

Light green

Dark green

Yellow

Green

White

White

158

114

257

187

109

15

Vic

Nick Barber

Cath Robinson

Sam Power

Lisa

Jean
Ready for the next one?
After the success of this year's Coffee Morning, the organisers are planning to do it all again in 2013. Put Friday 27 September 2013 in your diary.