Vote for your favourite science snapshot
17 Oct 2012
University does its bit for Manchester Science Festival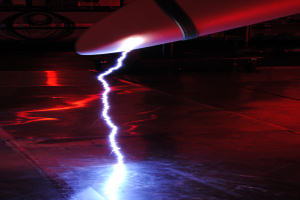 A 305 million-year-old spider, the inside of a tadpole's head and lightning striking the blade of a windmill all feature in this year's Images of Research competition, part of the University's contribution to the Manchester Science Festival.
Fifteen stunning photographs have been shortlisted and are on display at a special exhibition at the John Rylands Library on Deansgate. They provide a behind-the-scenes look at the work being carried out by researchers both on campus and around the world.
This year's theme is 'Making a Difference', with the images demonstrating how University research is affecting the wider world and benefitting society. An overall winner will be chosen by the public who can vote both at the exhibition and online from October 27 to November 4 at www.manchesterimagesofresearch.co.uk.
Julian Skyrme, Head of Social Responsibility, says: "This competition is all about opening up our research to the public, demonstrating what we do through creative and compelling images. Our researchers are passionate about their work and the benefits their research can bring. The images shortlisted for this competition reflect their commitment and drive to understand and improve our world."
The University is also hosting a Science Spectacular at Whitworth Hall from 11am to 3pm on Saturday (27 October).
Hundreds of people are expected to join the fun, which starts outside on Oxford Road with 'science busking'. Eleven of our intrepid researchers went through an intensive day of training to learn how to demonstrate all sorts of science tricks to spellbound children and adults alike.
Inside the hall there will be a rare glimpse of real meteorites, man-eating plants and "do it yourself" graphene.