Stunning images highlight research work
17 Oct 2012
A 305 million-year-old spider, the inside of a tadpole's head and lightning striking the blade of a windmill all feature in this year's Images of Research competition at The University of Manchester.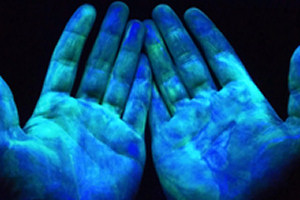 15 stunning photographs have been shortlisted and are going on display from Wednesday 17 October at a special exhibition at the John Rylands Library on Deansgate in Manchester City Centre. They provide a behind the scenes look at the work being carried out by researchers both on campus and around the world.
This year's theme is "Making a Difference". The images demonstrate how research being carried out at The University of Manchester is affecting the wider world and benefitting society.
Staff and students from all academic levels across the university entered this year's competition. It's only the second time it's been run. An overall winner will be chosen by the public who can vote both online and at the exhibition.
Julian Skyrme, Head of Social Responsibility says: "This competition is all about opening up our research to the public, demonstrating what we do through creative and compelling images. Our researchers are passionate about their work and the benefits their research can bring. The images shortlisted for this competition reflect their commitment and drive to understand and improve our world."
A snapshot of some of the images is shown below. The full list can be seen at www.manchesterimagesofresearch.co.uk along with information about the researcher who took the photograph.
The Images of Research competition is part of the Manchester Science Festival which runs from October 27 to November 4.