Commemorating the life of a nursing education pioneer
15 Oct 2012
A Celebration of the Life of Jean Kennedy McFarlane, Baroness McFarlane of Llandaff, will be held on Monday 3 December 2012.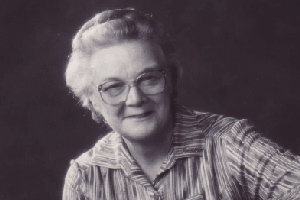 On 3 December 2012, the University will celebrate the life of Jean McFarlane, Baroness McFarlane of Llandaff, who was Head of Nursing in the Department of Social and Preventive Medicine, 1971 to 1973, and Head of the Department of Nursing, 1973 to 1989, Victoria University of Manchester, and who died on 13 May 2012.
The ceremony will take place in the Whitworth Hall, Oxford Road, Manchester, commencing at 2.30pm and ending at approximately 3.30pm.
Tea and coffee will be available in the Whitworth Hall from 2pm. Refreshments will be available immediately after the celebration in the ground floor of the Jean McFarlane Building.
If you would like to attend, please contact:
In your email, please state:
The number of tickets you require;
The email address to which you would like your e-ticket to be sent (if this will be problematic, please let Daniel have your postal address and he will ensure that a ticket is posted to you);
Whether you intend to stay for the refreshments after the Celebration.
If you know of anyone who would like to attend but who may not be aware of the University website, please ask them to contact Daniel for a ticket.
Tickets will be issued on a first come, first served basis.