Scientists celebrate World Heart Day
15 Oct 2012
Manchester researchers demonstrate ways of the heart for museum visitors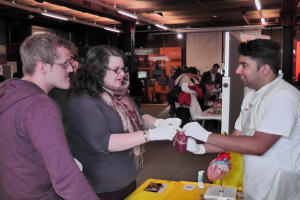 "It's extra awesome here!"
That was how one youngster summarised his visit to the World Heart Day event run by researchers from the Institute of Cardiovascular Sciences, in the Faculty of Medical and Human Sciences, and Faculty of Life Sciences.
The event, hosted by the Museum of Science and Industry (MOSI), comprised a series of interactive – and often messy – activities designed to inform and enthuse both young and old about the cardiovascular system in health and disease.
Visitors began by donning surgical gloves and getting to grips with a display of real animal hearts.
Organiser Clare Austin said: "Despite the initial reactions of many, this was perhaps the most popular part of the event and was an excellent way of explaining cardiac anatomy and its relation to function."
Heart rate and its modulation were demonstrated in both water fleas – where the beating heart can be seen down a microscope – and man – an exercising, and ultimately very tired, PhD student!
The importance of a healthy vascular system was highlighted by models where participants were invited to push 'blood' through normal and diseased arteries; while a consultant cardiologist demonstrated clinical treatment of arterial disease. A range of other interactive models, games, dressing up and colouring further engaged younger visitors.
Co-organiser Ann Canfield added: "All in all it was an exhausting but extremely enjoyable and worthwhile day. Our feedback confirmed that many of the 2,383 visitors to MOSI that day left with an enhanced knowledge of the cardiovascular system."