Swiss Ambassador's Award Concert
09 Oct 2012
Wednesday 17 October 2012 (7.30pm) at The Cosmo Rodewald Concert Hall, The Martin Harris Centre for Music and Drama.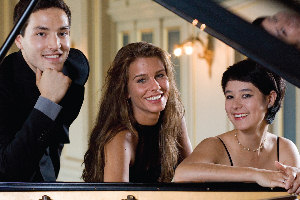 Admission Price: £12 (includes programme and a glass of Swiss wine)
The Swiss Cultural Fund in Britain presents the Swiss Ambassador's Award winners 2012: Medea Trio from Switzerland. The Medea Trio was founded in 2005 in Basel, where the young musicians studied together. Winner of the 2011 Orpheus Swiss Chamber Music Competition, the Medea Trio is currently studying for a Masters in Chamber Music at the Basel Music Academy with Anton Kernjak:
Yuka Oechslin, piano
Erika Achermann, violin
Mirjana Reinhard, violoncello
Programme
Claude Debussy (1862 – 1918): Piano Trio in G Major (1879)
David Philip Hefti, contemporary Swiss composer (*1975): Trio No. 2 for violin, violoncello and piano, World première
Antonin Dvořák (1841 – 1904): Piano Trio No. 4 'Dumky' (1891)
This concert is organised in collaboration with the Consulate of Switzerland in Manchester.