Free cycle training on campus
10 Oct 2012
Beginner/refresher cycle training and cycle maintenance for staff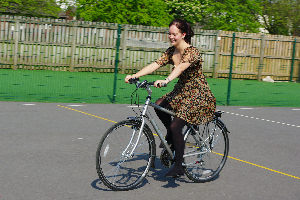 As a proactive cycling employer, the University and its Corridor partners have been offered free training by Transport for Greater Manchester, as part of their quest to get more people on their bikes.
Cycle Training
Can you ride a bike but want a bit more confidence to start leisure or commuter cycling? Then this training is for you!
Pick from either national standard level 1 or 2 or do both:
Level 1, Off-road: Covering; cycle control, balance, signalling and being aware of everything around you at all times;
Level 2, On-road: Road positioning, passing parked vehicles and left and right turns.
Dates and locations:
Saturday 20 October (10am – 12pm): Level 1, University Place external area
Saturday 20 October (1pm – 3pm): Level 2, starting at University Place and using quieter roads in the local area
Basic Bike Maintenance
Have a bike but haven't a clue how to mend a puncture or how to keep it running smoothly?
If the answer is yes come along to one of three Basic Bike Maintenance sessions
Dates and locations:
Tuesday 23 October (5-7pm): Royal Northern College of Music
Wednesday 24 October (5-7pm): Royal Northern College of Music
Thursday 25 October (5-7pm): Royal Northern College of Music
Book now
To book a place (first come, first served) contact:
Further courses and options
The University has a limited number of spaces at these events. It is hoped that more courses will be run in Spring 2013 and so if courses are full, a waiting list will be kept.
If you cannot make these courses but would like cycle training, TfGM offers FREE cycle training to all who live, work or study in Manchester.
For details and to book, go to:
Cycling at the University
Full information online at: