UK's first monument to Clockwork Orange author unveiled on campus
11 Oct 2012
Clockwork Orange author Anthony Burgess was publicly honoured for the first time in the UK, when a blue plaque was unveiled on campus.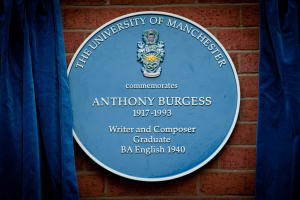 Burgess, whose iconic tale of gang violence and retribution celebrates its 50th anniversary this year, studied English Literature here from 1937 to 1940. John Burgess Wilson invented the name "Anthony Burgess" when he published his first novel of 33. He also wrote 25 works of non-fiction, two volumes of autobiography, three symphonies and more than 250 other musical works, including a violin concerto for Yehudi Menuhin.
Other than a plaque outside his flat in Monaco – where he lived for 17 years – no other monument exists to the world-famous author, who died in 1993.
The Manchester plaque was unveiled by Professor Jeremy Gregory, Head of the School of Arts, Languages and Cultures, to mark the launch of the school, at the Samuel Alexander Building.
The unveiling was proceeded by the world premier of a trumpet fanfare he wrote as a birthday present for his son, Andrew Burgess Wilson, recently discovered by the International Anthony Burgess Foundation (IABF) and arranged for two trumpets by University lecturer and head of composition Dr Kevin Malone.
Dr Andrew Biswell, Director of the International Anthony Burgess Foundation, said: "Although Burgess was one of the great English-language writers of the 20th century, he has always been neglected in the country of his birth.
"Burgess was awarded major public honours by President Mitterand of France and Prince Rainier of Monaco, but in Britain he received nothing except a cheap plastic trophy presented to him by Mrs Thatcher at the British Press Awards.
"So I'm delighted that the University has decided to install the first British public monument to Burgess, fifty years after A Clockwork Orange was first published."
The son of a music-hall dancer and a shopkeeper, Burgess grew up in Harpurhey and Moss Side before winning a scholarship to Xaverian College. Some of his earliest poems were published in the University student magazine 'The Serpent', including a love poem to his first wife and fellow student, Llewela Jones. They became engaged while they were studying at Manchester.
Dr Booth said: "It's a great opportunity for all of us in the new School to celebrate a former English literature student. Burgess is a major novelist who deeply loved literature and language - he wrote so well about other writers.
"I'm eager to celebrate a distinguished former literature student for the benefit of the present cohort. Who knows, in fifty years' time there may be a blue plaque for one of our current students."