'Wheely good' turnout for monthly cycle ride
04 Oct 2012
A grand total of 84 cyclists turned out for October's monthly cycle ride.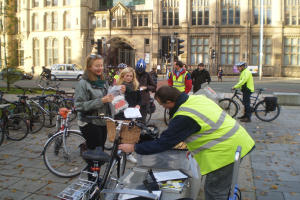 They were able to give their bikes a pre-winter check up, courtesy of mobile cycle mechanic Revolve MCR, while Ian Halliwell, Crime Reduction Advisor, made sure they had all the necessary security markings.
And of course there was the free breakfast!
For more details about the scheme and regular bike marking dates go to:
The University is also helping you increase your security by subsidising quality d-locks to only £15 (rrp £35). Purchase yours from the online shop. Please note: All staff and students are eligible but must have their bike marked. It is possible to purchase in advance and collect at a bike marking event but prior arrangement with Ian Halliwell is required. Contact Ian Halliwell at:
You can join a guided route, specifically set up for new riders, or come along under your own steam for a free breakfast, raffle and chance to feel part of Oxford Road's great cycling community. Breakfast will be from 8.20am until 9am and we hope to see you there.

For all the details, including a map to the new location and guided route information go to:
Promotional posters and bike strips are downloadable from the website.
Further information
For information on University cycling facilities and schemes go to: