Long-distance run in memory of student raises £14,000
02 Oct 2012
Two brave fundraisers have completed seven marathons in seven days to raise £14,000 in memory of a former student – and the money is still coming in.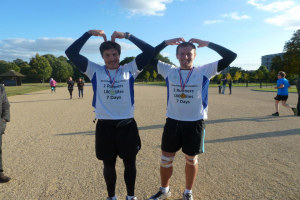 Sebastian Moss and Ashley Collins crossed the finish line in London a week after setting off from The University of Manchester where Sebastian's sister Natalie had studied textiles. She died at the age of just 26 from a brain aneurism.

Sebastian said: "It was physically the most difficult seven days of my life.  Torrential rain in the first three days didn't make life any easier, as we moved further south the rain began to ease until we arrived in Hyde Park with glorious sunshine.

"We certainly had some dark and lonely moments on this run and what got us through was remembering all the support which we had received and were receiving during the run, those people that we would be able to help by raising all this money and particularly for me the memory of my sister and hoping that she would be proud of what I'm doing.

"Crossing the line in Hyde Park was certainly an emotional affair, the agony of the previous seven days was now over, all the work which had gone into this event was now over and we felt an overwhelming sense of pride that we had got through this incredibly tough challenge."
Natalie Kate Moss from Parbold in Lancashire studied Textile Design and Design Management at the University from 2004-2008, but died suddenly whilst following her dream and working as a Brand Manager for Karen Millen.

Sebastian and family friend Ashley decided to run to the capital to raise funds for a trust set up in her name - the Natalie Kate Moss Trust. The route was chosen because that was the path that Natalie had taken just before she died - she went to The University of Manchester and then spent many happy years living in Manchester before moving down to London to progress her career.

The family intends to use some of the proceeds to award two undergraduate scholarships to new students suffering from injuries brought on by stroke or brain injury.  It is hoped the Natalie Kate Moss Scholarships will be awarded on an annual basis.  They also hope to be able to fund further research at Manchester into brain injuries.

Sebastian said: "Natalie touched so many people's lives with a personality that bubbled, a generosity second to none and kindness for all that were fortunate enough to spend time with her.  Her death devastated her family and friends who could never have imagined such a tragedy could happen to someone in the prime of her life."

Sebastian added: "The Trust will offer students who have suffered a brain injury financial support, providing them with the opportunity to complete a degree at the University.  Many people with such disabilities are unable to attend because they cannot afford the additional support they require due to their condition, anything from help taking notes to specialised accommodation.  The Natalie Kate Moss Trust looks to give people a chance to fulfil their potential."

The University is currently undertaking groundbreaking research into the development of new treatments for Strokes, and the Trust will also provide financial backing to this research.