AskMe Shows the Way
01 Oct 2012
As part of the 'Services, Information, Advice and Guidance for Students Project', 'askme' signage has been distributed to 36 enquiry points across schools and central services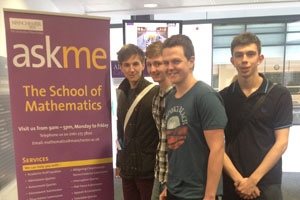 The signage is intended to give students a clear indication of office opening hours, contact details and the services available.

Project Manager Yvonne McLean said: 'Highly visible signage is an important aspect of ensuring that services are easily accessible to students'.

Dr Alison Howorth, Head of School Administration for the Manchester Medical School, added: 'The askme banners look great and reinforce the overall message of the askme campaign'.