Museum gives kids food for thought
27 Sep 2012
Researchers from the Faculty of Life Sciences discussed their work with youngsters and adults as Manchester Museum celebrated Harvest Festival on its own allotment.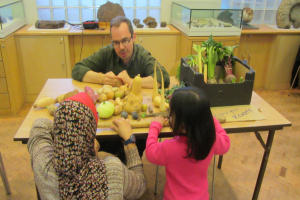 The Plant Sciences team joined the British Science Association, fruit growers' organisation Northern Fruit Group, cooking network Cracking Good food, the Grey to Green Project, RSPB and Lancashire Wildlife Trust at the Big Saturday event, which linked work at the Museum allotment - in the courtyard outside the building - with its Living Worlds gallery and the Big Dig project to grow food in cities.
Visitors also made fruits out of clay, took part in a compost workshop and viewed an impressive display of produce grown by staff in their gardens and allotments and in the Museum plot.