NSS results show improvement in student satisfaction
27 Sep 2012
83% achieved in 2012 survey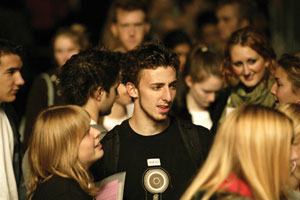 The results of the National Student Survey (NSS) for 2012 have been published today (Thursday 27 September).
They show that our University has improved from 79% in 2011, to 83% this year.  The NSS surveys final year undergraduates to assess their satisfaction with their university experience. 
Our performance in the NSS is important because it affects our position in a range of university league tables.  This year, for the first time, Key Information Sets (KIS) are being published for every university, and will show comparable sets of information about undergraduate courses.  The NSS scores feature in this KIS data.
Some Schools within the University have improved their NSS performance markedly, in particular the School of Law; School of Nursing, Midwifery and Social Work; and Manchester Business School.
While our overall performance in the NSS has improved, this is just the first step in our efforts to improve the student experience here at Manchester.  Our overall aim is to achieve 90% in NSS and be in the top quartile of Russell Group universities, by 2020. 

Over the past twelve months we have made a considerable investment in a range of initiatives to improve the student experience.  The launch of the new Alan Gilbert Learning Commons next week; £10 million of investment to date in improving teaching facilities; improved communication with our students: and £1 million to appoint new academic staff to improve staff: student ratios, are just a few of the significant changes and investments which have taken place. 
A full breakdown of the NSS results is available at: