Worlds Biggest Coffee Morning Raffle today - win some fantastic prizes!
28 Sep 2012
Tickets are 50p each or £2 for a strip and can be purchased at the following coffee mornings - all proceeds go to Macmillan Cancer Support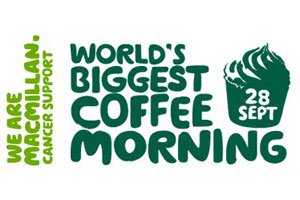 The coffee mornings take place in various venues around campus:
Christies Bistro 10am onwards – contact Adam Woof
University Place 8.30am onwards – contact Cath Prescott
Staff Common Room Kilburn 10.30am onwards – contact Ruth Maddocks
Top prizes include:
Other prizes include:
Lunch for 2 people in the Restaurant at Christie's Bistro
7 day pass at Sugdens Sports Centre – Manchester 
3 x Voucher Bella Spa – Eyebrow Threading with Colour Manicure
1 x Voucher Bella Spa – Shellac/Gelish Nails value  1 x Voucher Bella Spa – Party Make up
1 x Voucher Bella Spa – Spray Tan
Thank you to all participating organisations for generously donating these wonderful prizes.
The draw will take place in Christies Bistro on Monday the 1st October 2012 for more information visit our facebook page.