Keep wearing your "askme" badges
24 Sep 2012
The AskMe campaign will continue until Friday 28 September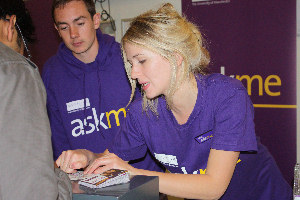 Thank you to everyone who has been wearing an "askme" badge as part of the campus-wide campaign to welcome new students to The University of Manchester. It is important that we support our students in having a positive experience on campus, especially during the bewildering first few weeks of their university life.
Wearing an "askme" badge simply indicates that you are a student or member of staff who is willing to help, and take ownership of any enquiries a student may have. This means that although you may not know the answer to a student's question, you are prepared to help the enquirer find the answer. Please offer your assistance to anyone who appears to be lost or confused, as some students may not be confident about asking help from a stranger.
You are asked to keep on wearing the badges until Friday 28 September at least and to continue to help students find answers to their questions.
The central Askme desks will be remain open as follows:
University Place foyer - until Friday 28 September (8.30am to 5pm)
They will be complemented by an "askme" Help and Support tab on the new-look My Manchester for students, which can be accessed by staff at:
Campaign coordinator Jennifer Williams from the Directorate for the Student Experience, who has been helping to staff the "askme" desk in University Place, reported: "It's been going very well. We've been really busy, with lots of students asking about timetables, inductions, and just familiarising themselves with the campus".
Her colleagues on the desk said that the most commonly asked questions were: "Where do I get my ID card?" and "Where is the Accommodation Office?" and that a large proportion of the people seeking help were international students. When asked if there had been any cases where they couldn't help, they could think of only one instance: "There was an MMU student who took a lot of convincing that he was in the wrong place!"
If you'd still like to get hold of extra "askme" badges and pocket guides or have any further enquiries about the campaign, please contact:
If, as a result of taking part in the "askme" campaign, you feel that you might benefit from further equality and diversity training, please feel free to email: