Professional Development Network: peer support for staff
13 Sep 2012
Annual event with lunch on Thursday 15 November (9.30 am to 2pm) at Chancellors Conference Centre.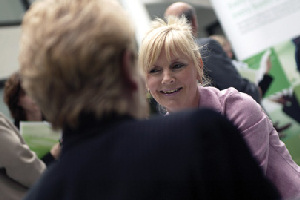 Do you know that the University offers staff an opportunity to work together on work-based issues through the 'Professional Development Network'?
Open to all staff at the University, this peer support network consists of a number of small groups who meet regularly to discuss issues and agree appropriate actions with which to address them.
This method of peer support and learning gives individuals the opportunity to:
Focus on real work-based issues;
Reflect with peers and find workable solutions together;
Try out new approaches and methods;
Report back on the impact of actions taken.
The network is in its fifth year and is co-ordinated by the Staff Training and Development Unit.
If you are interested in joining or hearing more about the network, you are invited to our annual 'Professional Development Network' event on Thursday 15 November from 9.30 am until 2pm.at Chancellors Conference Centre (lunch is provided).
For more details and an application, please visit: