Vintage video gives a taste of student life in 1972 Manchester
13 Sep 2012
Video footage of student life in Manchester 40 years ago – featuring Rag Week, beer for 13p a pint and 'regular mid-week discos' - has surfaced on the internet, after being discovered by a University audio-visual technician.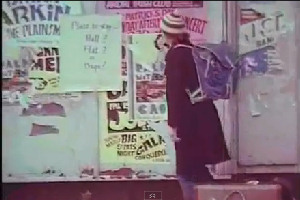 Nostalgic former students are logging on in their thousands to view their younger selves wearing flares and handlebar moustaches, drinking beer for 13p a pint and watching the new hit comedy Monty Python.
The 15-minute film was made to promote student life at UMIST and guides newly-arrived freshers through the student etiquette of the Seventies – including how to get into student digs and what to expect from lecturers.
'Regular mid-week discos' were the highlight of the social calendar. But the annual Rag Week parade – still a major event on campus – includes wacky activities which would raise eyebrows today, including students doing battle by throwing canteen 'waste' at each other from large drums.
The footage was discovered by University audio-visual technician, Andy Cooper, 45, during a clear-out on campus.
The video, which appears to have been shot and scripted by undergraduates themselves, features a soundtrack by folk singer Nick Rhodes and prog-rock band Greenslade also make a brief appearance.
Since Andy posted the video on YouTube, thousands of viewers – many now in their fifties and sixties – have logged in to re-live their student days.
Andy said: "Quite a lot of people have got in touch saying they remember UMIST from that time. One man has even left a message to say he was one of the students in the video."