University team is joint runner-up in learning technology awards
13 Sep 2012
Staff from The University of Manchester have been awarded the joint runner up prize for the Association for Learning Technologists "Learning Technology of the Year" team award.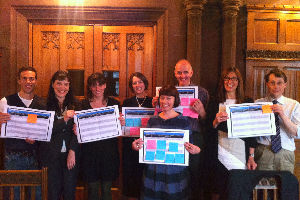 The award's overall purpose is to celebrate and reward excellent practice and outstanding achievement in the learning technology field.
The SCARLET team, led by Mimas and involving academics from the School of Arts, Languages and Cultures and Special Collections staff from The University of Manchester Library, received the award at the 2012 ALT Conference Gala Dinner on 12 September in Manchester.
The Special Collections using Augmented Reality to Enhance Learning and Teaching (SCARLET) project, funded by JISC, has been instrumental in addressing one of the principal obstacles to the use of Special Collections in teaching and learning – the fact that students must consult rare books, manuscripts and archives within the controlled conditions of library study rooms, which are isolated from the secondary, supporting materials and the growing mass of related digital assets.
The project will provide a model that other Special Collections libraries can follow, making these resources accessible for research, teaching and learning.
Project Director Dr Jackie Carter, Mimas, said: "It's a tremendous honour to receive this award in recognition of the passion and commitment of Team SCARLET.
"The SCARLET project has demonstrated perfectly the strength of working in a mixed team of project managers, academics and content experts, and learning technologists. This small project has punched well above its weight in demonstrating how an innovative technology, Augmented Reality, can be used imaginatively to enhance the student learning experience with special collections materials at Manchester.
"We hope to use this to further develop opportunities in the pursuit of outstanding learning and teaching at Manchester and beyond."
For more information about the project, read: