Manchester rower in bid for Euro glory
06 Sep 2012
University of Manchester rower Graeme Thomas is heading to Italy next week to take part in the European Championships.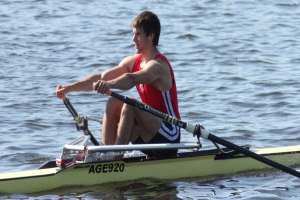 The talented oarsman will compete in the single scull event at Lake Varese as he begins the long build-up to the next Olympic Games, Rio 2016, and the World Championships in Korea next summer.
Graeme, 23, and the rest of the GB Rowing Team will take on leading rowers from other nations - many of whom competed at London 2012.
Graeme, who comes from Preston, raced in the men's single scull at the World Cup in Munich and finished in an extremely promising 4th place. At the 2012 GB Rowing Team Senior Trials last March at Eton/Dorney, Graeme came 5th.
Graeme took up rowing when he came to study Biomedical Science at The University of Manchester. He originally had ambitions to be a professional rugby player, having represented Lancashire in every age group from under 15 to under 20, but decided his physique was more suited to rowing.
Pete Sheppard, Team Manager and Lead Coach of the GB squad for the Championships said: "We expect the standard to be high as many nations will be entering boats who raced at this year's Olympics, so while it will be a great experience for our crews we will be keeping our aspirations realistic."
Racing at the Europeans starts on Friday September 14 with 'A' finals for the top six of each event on Sunday September 16.

For full race schedule and daily start lists go to www.worldrowing.com