New look My Manchester goes live
03 Sep 2012
The My Manchester portal for students has been re-launched with a new modern design, improved navigation and new tools and features.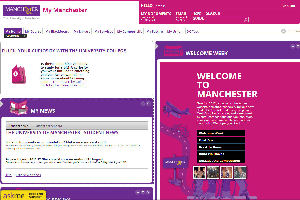 The latest developments have been informed by in-depth student consultation workshops to establish which parts of the portal needed to be improved.
Students agreed that My Manchester was a definite improvement over the previous selection of online student resources such as student portal and StudentNet.
However, they said the site looked quite bland and cluttered, and they found it difficult to navigate to the tools and features they needed.
In response, features of the new look My Manchester include;
A modern design that complements new Welcome site
Blackboard tab that allows quick access to online learning tools
Live jobs, events and social media feeds
More powerful and visible search function
Access to online help and support resources via 'ask me' tab
Optimised for viewing on mobile devices
Phase 2 Developments have been led by Student Communications and Marketing in the Directorate for the Student Experience, with support from IT Services and external agency Wonder Associates. Additional guidance has been provided by the Communications and Marketing Division.
Instructions for Confirming Attendance and Registration are unaffected by the launch of the new site, however any screenshots used in documentation may need updating to reflect the new look and feel.  Please contact Alex Waddington for further help with this.
A detailed guide called 'My Manchester: in-depth guide to what students see' provides information on what students should see when they use My Manchester, and should be useful to staff involved in student support.
'My Manchester student portal - FAQs' is an additional document for staff supporting students, designed to help answer common questions about My Manchester, its features and its use by students.