Secrets of the life scientists revealed
29 Jun 2012
Our life scientists are revealing some of the strangest secrets of their field when the Michael Smith Building opens its doors to the public tomorrow (30 June).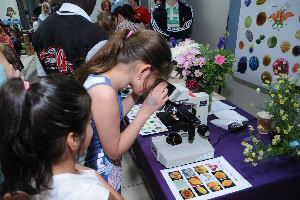 Visitors will be able to create amazing paintings with maggots, meet live amphibians used to study the healing process and look through microscopes worth £1 million at the Faculty of Life Sciences Open Day, a fun and family friendly event for the local community.
They will also learn how leeches were used in medicine, find out how the heart works, make edible cells out of cookies and see robots in action when they take tours of our laboratories where scientists will be on hand to talk about their research on heart defects, Alzheimer's disease, biofuel development and much more.
FLS Associate Dean for Social Responsibility, Professor Matthew Cobb said: "We hope that many members of staff and their families will come along and see some of the fantastic science and amazing facilities we have in the Faculty. Please bring your friends and neighbours – this is a real community event, with something for everyone aged from 4 to 94."