Depression study wins research team top honours
27 Jun 2012
Research that added to the understanding of the management of depression in patients with long-term health problems has won a national award.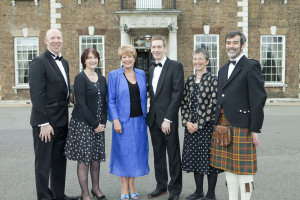 University of Manchester researchers have been awarded the 2011 Royal College of General Practitioners (RCGP) and Novartis Research Paper of the Year Award for Mental Health for their study published in BMC Family Practice last year.
The research, led by Professor of Primary Care Carolyn Chew-Graham, described the way doctors manage consultations with patients who have coronary heart disease or diabetes and are suffering from depression, and outlined the main barriers to detecting and treating depression.
People with long-term conditions (LTCs) are at least twice as likely to experience depression as those who are relatively healthy. Depression is known to negatively impact on the way people with LTCs manage their illnesses, leading to greater use of healthcare, poorer quality of life, greater disability and worse prognosis.
"Our paper built on work that had already been done in the University's Primary Care Research Group and helped us to understand why depression in people with long-term conditions are not always identified and managed appropriately," said Professor Chew-Graham, who is based in the School of Community Based Medicine.
Co-researcher Dr Peter Coventry said: "Practitioners and patients differed in their ability to explain and recognise depression in the presence of LTCs, but both tended to see depression as a normal and understandable response to the associated LTCs. The findings show us that there's a need to find a more collaborative approach, drawing in help from mental health professionals, to managing depression in patients with LTCs."
Award Panel Chair Professor Frank Sullivan added: "In recent years, there has been a greater emphasis in primary care on improving recognition and treatment of depression in people with LTCs. This paper examined the topic in depth, approaching it from a wide range of perspectives by engaging with a number of key stakeholders and provides valuable insights into approaching and addressing these issues with patients suffering depression linked to chronic conditions."
The 2011 RCGP and Novartis Research Paper of the Year award was announced on June 18.
Ends